Dietrich Team Roper Still Chases Big Cash Prizes Despite Set Back
A Champ's Comeback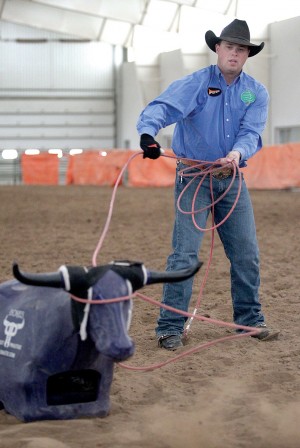 January 29, 2012 2:00 am
•
DIETRICH • You know he's tough when he describes the pain of his thumb ripping off as a "sting."
But that's how roping champion Casey Perkins said it felt when when the accident happened on Father's Day 2010. Too tough to quit, Perkins hasn't given up on his dreams of roping glory — and the 2012 season's big cash prizes — despite losing his thumb.
Nineteen months ago, Perkins was practicing roping at a friend's house when his thumb got caught in rope coiled around the saddle horn. A steer was on the other end when the line tightened — with his thumb stuck inside. At first, he felt a sting, and didn't think anything of it.
"Until Ilooked down,"Perkins said. "(My thumb) was just hanging there by a tendon."
The pain turned more intense. "It felt like my thumb was on a burning plate, and I couldn't take it off."
After his helicopter ride to Boise, doctors amputated his right thumb between the knuckles.
"It was too mangled to put it back on,"said Perkins, 36, who lives with his family on 17 acres in Dietrich.
For the uninitiated:Team roping is a timed rodeo competition in which two cowboys or cowgirls on horseback take turns roping a running steer. First, the header lassoes the horns or neck; then the heeler ropes the hind legs.
For Perkins, a heeler, losing much of his thumb was a harsh blow. When it happened, he was enjoying a successful season and getting pumped for "cowboy Christmas" — early July, when roping contests are plentiful. He missed several events but was back in the saddle by August.
Steve Sherwood was Perkins' roping partner when the accident happened.
"I was really bummed because we had started off so good, and it was early in the year," Sherwood said. He picked up a partner in some competitions, but missed several others waiting for Perkins to heal.
"That kid is one really upbeat, happy guy," Sherwood said. "When I messed up, he never cast blame. I've never had a more fun partner."
Chasing the Dream
With a short stump on his dominant right hand, Perkins feared he would never reach the same heights he achieved in the past: In 2008, he won the U.S. Team Roping Championship in Oklahoma City, in the 21-or-older division dubbed Gold Plus. In that contest alone, Perkins won $30,000 and a Dodge Mega Cab one-ton truck, worth about $40,000.
But Perkins taught himself to throw the rope thumbless. He said he kept a positive attitude, continued practicing, and now he thinks he's just as good — maybe better — at roping than when he had two full thumbs.
Winning the 2008 championship was his most triumphant moment roping — "so far," he added.
This year, Perkins plans to chase the title in the World Series of Team Roping — and its $100,000 top prize — among other competitions.
"Never give up on a dream,"he said. "No matter what it is."
Sherwood agrees Perkins is a better roper these days. Losing the thumb was a setback, but Perkins was steadily improving before he lost his thumb and has continued to improve without it, Sherwood said.
"In the long term, it hasn't hurt him at all," Sherwood said. "He's just gotten better through determination and work ethic."
A Family Passion
Perkins got into roping thanks to his wife, Shanna, who comes from a roping family and is no slouch herself. In 2006, she won $27,000 at the U.S. Team Roping Championships.
"He wanted to ride saddle bronc, but it was too dangerous, so I said 'no,' because they get hurt a lot," Shanna said. What's an inch gone from the thumb compared with a spinal cord injury?
The couple's three girls, Katelyn, 13, and twins Kayla and Kylee, 10, are competitive ropers, too.
"When we get off work, if the weather's nice, then we'll rope," said Shanna of her family's passion. "Any chance we get, we go and do it."
Casey and Shanna say they worry a little about their daughters keeping all their digits, but they try not to think about it.
"It's something all ropers know is a possibility," said Sherwood, noting he's known others who lost a thumb. "It's no different than driving your car down the road. You're not thinking about getting into a wreck."
Losing a thumb is a somewhat common injury in team roping. There's even a product called the Thumb-Saver, designed with team ropers in mind, to protect their opposable digits from harm.
Team roping requires the heeler to first lasso the steer's hind legs, then wrap the rope around the saddle horn to tighten the line between the horse and steer. If a thumb gets caught in the coil, the weight of a 700-pound steer on the end of the rope can pop a thumb right off.
"I've told (my kids), 'If you feel like you've got something in there, just let 'er go,'"Casey said. "It's not worth it."
Perkins said losing his thumb has been a challenge. But he's made it work.
"It's crazy how people adapt when they lose a limb or something,"said Perkins, noting he's become ambidextrous and has found new ways to button shirts and tie knots.
But, he added, "bowling's tough."